---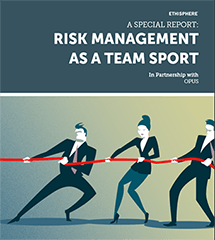 ---
Honored to be included in this multi-topic whitepaper on how to manage risk throughout the enterprise by partnering with your business lines.
In this special Risk Management report by Ethisphere and Opus, risk executives share their insights and opinions on how to build a successful culture of risk management in today's enterprise. Executives from Finance, Risk, Technology, and Security share different ideas on how to mitigate risk, what works, and new approaches to consider.
---
Companies with the most effective governance, risk and compliance programs get there through an integrated approach to risk across the organization. They treat those leaders who are responsible for managing key enterprise risks, as partners to the business and see themselves enabling efficiencies, not creating obstacles – they respond with a "here's how" and not a "no".
In order to help learn from companies that are doing it well, including some recognized as 2018 World's Most Ethical Companies Honorees, Ethisphere and Opus have partnered to create this Special Report which highlights, in their own words, what company leaders are doing to build best in class ethics, compliance, governance and risk management programs.
In this report you will hear from various leaders from Nokia, ON Semiconductor, Millicom, ARM and Granite Construction who share what they're focused on when it comes to risk management, and how they work with others across the company to create strong and effective programs.
---
Download the full report here:
https://www.opus.com/resource/operational-risk-management-team-sport/
---
Copyright © 2002-2023 John Masserini. All rights reserved.
---