---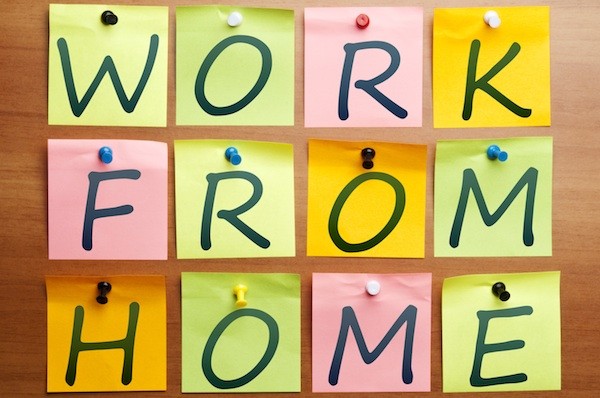 ---
---
Estimated Reading Time: 5 minutes
The vast majority of my career has involved some type of work-from-home aspect. My early career as a consultant had me mainly at customer sites, but also typically a day or two at home was pretty standard. Once I got behind the desk, between travel schedules and BCP testing, I again found myself working from home a day or two on average. While working from home certainly has its benefits, it can also be problematic for those who are not used to the lack of formal structure an office environment brings.
One of the biggest drawbacks of work-from-home for an extended period is the potential it has to have a negative impact on your mental and physical health. The sedentary tendencies that are often picked up, combined with the lack of casual social interaction, can often make working from home feel extremely isolated and monotonous, impacting not only your productivity but your mental well-being as well. As someone whose fallen down one of these rabbit holes on occasion, identifying and being aware of this changing behavior is foundational to ensuring you're taking preventative actions.
With so many people now being asked to work-from-home as part of the evolving COVAD-19 precautions, I figured it was worthwhile to put together a few tried-and-true practices to keep you productive and sane while spending an unexpected few weeks in the home office. Below are a few work-from-home tips and tricks that may help you get through your days productively and with as little disruption to your day as possible.
Follow your regular morning routine – Sometimes easier said than done, but this is critical. Shower, get dressed and log in. Don't roll out of bed and open up the laptop and start working without giving some thoughts to the day's schedule. That 15-minute video conference reminder will pop up before you know it and you'll end up scrambling to look presentable. And speaking of being presentable, while that well-aged Foo Fighters Tee may be perfect to work in all day, is it really what you want to be wearing for that customer or management video call?
Move, Move, Move!! – You likely don't realize how much you move around when you're in the office. Walking to lunch, grabbing coffee, heading to that meeting room on the other side of the floor, or even just walking back and forth to the car gets the blood moving. Find ways to do that same thing when working from home – take 5 minutes between calls just pace a bit – or, for those Type-A's, find a quick youtube video on Yoga and do it a couple of times a day. Here's a quick 5-minute one for in-between calls and a 15-minute one you can do over lunch.
Eat lunch somewhere else – Do not eat at the desk you work at. Get up, get some fresh air, and take that same mental break you get every day in the office. Fresh air works wonders to clear the mind and reinvigorate – as does that yoga video.
When the day is over, shut it down – One of the hardest parts of working from home is that you never leave the office. When it's time to quit for the day, make sure you do the same thing as if you were leaving the office; shut off your computer, put your phone on silent, or whatever else you need to do to separate the workplace from the homestead. Having a dedicated workspace (i.e. not your bed) is very helpful here but is not always feasible.
Have a talk with your family – This is key. They need to understand what's acceptable and what's not. Come up with a way to let them know you're on a video call and they shouldn't be videobombing you from behind. It will save you from undue stress and 'discussions' (pronounced 'arguments') – later on. Not only will your significant other thank you for this one, but it will be key in ensuring a happy household going forward. It is also worth considering asking the family for help to ensure you follow through with whatever plan you put in place. Have them call you out on those days you eat at your desk… or if its been too long since that last shower.
From a leadership perspective, it's also critical to remember that your team may be having difficulty adjusting to the new work-from-home model as well. As a leader, its important to ensure that they feel as comfortable with the situation as possible. Some considerations for helping them adjust are:
Schedule time with them – Since the ability to have a casual interaction is now gone, ensuring they have the time they need to chat is imperative. Put a standing 30 mins on the calendar with them a couple of times a week to ensure they have an outlet if they need one. I don't know about you, but for me, it's far easier to cancel an unneeded standing meeting than it is trying to squeeze a new one in during the day. Also, don't forget about a reoccurring team meeting, if for no other reason, then to just check in with everyone all together. Finally, encourage them to set up standing meetings between themselves as well. If your team is like mine, they interact all day, every day, and the potential loss of that interaction could have a direct impact on their productivity.
Force them to have downtime – As I mentioned before, when the day is done, you need to shut down the laptop to encourage the separation of work and home. The same goes for your team – and it's your responsibility to ensure they do. Make sure they know what hours you expect them to be available and online, and when you don't. Set parameters for the workday. Another important thought – more than likely, your team will think you expect a response to that after-hours/weekend email and will be tempted to get back online and answer you – regardless of what you told them. If you can, try to hold those emails until the next day, or very clearly tell them this is something that can wait until the next day. A good leader finds ways to help their teams be successful and being mentally refreshed is critical to high productivity.
Consider what they are working with – When you ask your folks to work-from-home, do you understand the impact that has? In reality, most employees do not have a home office that resembles their office environment. Are they working all day on a 12-inch laptop or do they have a nice screen to plug into? Do they have a quiet space to focus, or are they stuck working at the dining room table all day? While no doubt some will be fine working on that tiny keyboard for the next few weeks, others may be far more comfortable with their full-sized keyboard/mouse/screen. Obviously, companies are not going to provide such supplies during this exceptional situation, so as leaders, we need to be cognizant of the impact that may have. Perhaps that Excel graph may not look as pretty as it usually does or the formatting of a presentation is a bit off – regardless of what it is, try to be a bit understanding that the potential for a slight slippage in quality or performance may occur. Sometimes, its an easy fix and other times it's not, but the only way to find out is to have a discussion with them.
So, that's about it. Hopefully, these lessons I've learned over the years of having a work-from-home model in place will help you during this interesting time. While you probably thought this was going to be more about the security aspects of remote work, the truth is, no matter what suggestions I made, they would only apply to a random subset of you. My only advice here is to listen to your security teams and do what they say, as they will give you far more applicable advice for your given situation.
Don't forget – drop me a comment and share your ideas. We all get better when we share.
Be safe out there.

---
Copyright © 2002-2023 John Masserini. All rights reserved.
---